Construction drawing how to make a coffeetable in industrial style.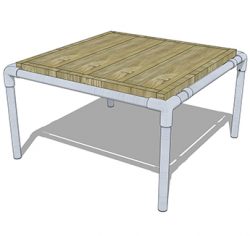 The construction of this coffeetable is similar to many of our other tables from scaffolding tubes.
One of the slight deifferences is how you make the tabletop.
Nevertheless it is possible to use almost any other method to construct a tabletop for these frames.
You migh exchange this top for the tabletop from our bench and table frames.
Another simple tabletop to make is from the side tables on wheels.
These low coffee tables are also similar to the barstool plus table and the dining tables made with reclaimed scaffolding.
Make a frame for the coffeetable.
Use thin or thick scaffold pipes and tube clamps.
The coffeetable will look more sturdy and industrial if you use thicker tubes and scaffolding planks.
Old wood that was used on the scaffolds looks great when you give it a treatment with wood stain.
That treatment with a stain will enhance all the blemishes and wear.
Hence it will leave some darker spots where the wood is more weathered.
Six steps to make a table from scaffold tubes.
These are the parts that are needed to make this coffeetable.
The metal parts for a table frame.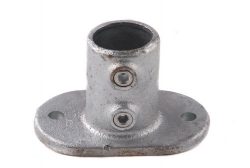 Four corner connections three-way.
Plus four clamps to hold the tabletop to the frame.
And four plugs for the table legs, so that they will not scratch the floor.
You could replace these plugs for foot plates if you want a more stable coffeetable.
For he legs you will need four tubes 37 cms. long.
The 4 tubes under the tabletop measure 74 cms.
Ofcourse it is possible to change all these sizes for the scaffolding tubes and tabletop.
These are just some examples to make a square coffeetable.
Wood to make a tabletop.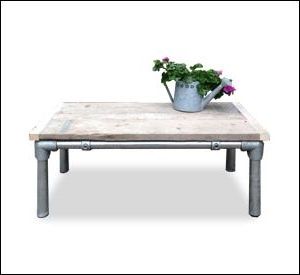 Place wood with the sizes 66×16,5x3cm. against each other as on the drawingss above.
Keep them together by placing a weight on top.
Now push two slats 66x3x3cm.  against the short sides of the planks.
Attach to the planks with three screws each.
Place the slats 72x3x3cm. against the other sides and attach with screws as illustrated.
Now you have a tabletop for the coffeetable.
Tip >> Use a mitre woodjoint around the tabletop, that will look a lot nicer.
More constructions for scaffolding tubes and repurposed wood.
Free construction drawings to make tables.