Construction drawings to make a tube chair from scaffolding pipes.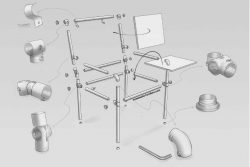 Chairs for inside or to use in the garden.
Weatherproof furniture, made with materials from reclaimed scaffolding.
Steel tubes and pipe clamps in combination with thick wood from the same scaffold.
You can repurpose the tube chair parts if you are not happy with the result.
Simply dismantle and recycle them in another furniture project.
About the scaffolding wood.
This wood has been outside for several years.
Therefore it has a weathered look and feel to it.
This wood is lightly preserved and could even be used without any woodstain.
Nevertheless we advise to spend some time on a nice finish.
Choose nice looking planks, and sand them as smooth as possible before you aooly a woodstain to the planks.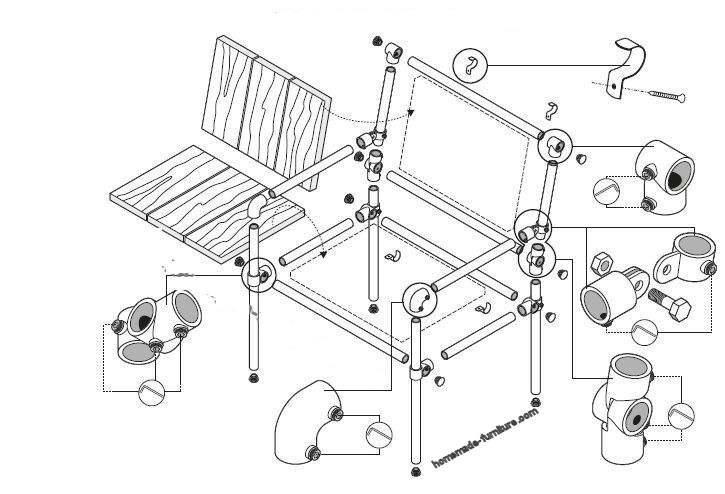 Step by step assembly method for a tube chair from scaffolding.
Firstly cut all the tubes and planks to the right size.
Tubes.
2 x 660 mm.
2x 515mm.
2x 420
2×365
2×350
4×700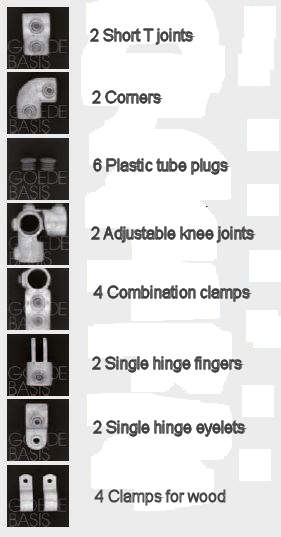 Slide the adjustable corner joints around the rear legs.
Push the tubes as far as possible in the clamps.
Tighten the screws with an allen key.
Slide a combination clamp around each chair leg.
Attach at a height of 45 centimeters.
Important >> These must be fitted in exactly yhe same angle on each leg.
Mount the four tubes which make a frame for the chair seat.
Stick the vertical tubes for the backrest in the adjustable corner joints from step 1.
Decide what will the angle for your backrest.
Now tighten the bolts and screws firmly.
Attach the eyelets of the hinges to the vertical backrest tubes.
Then fit the armrests to the fron tegs of the chair.
At the end of these tubes comes the finger part for the hinge.
Connect the hinges with the corresponding botls and nut.
Place the T-clamps on the vertical tubes from the backrest
Slide the top tube through thos T joints and tighten the bolts.
Attach wood to the frame to make a seat and backrest.
This attachment is easily done with clamps around the tubes.
These tube clamps for wood will be fastened with only one self tapping screw per clap and plank.
Push the plastic ends in the tubes to prevent scratching the floor.
This is a translation from our Dutch construction drawings for furniture.
More furniture that you can make with scaffolding pipes and old wood.