Make strong rails and racks for your wardrobe.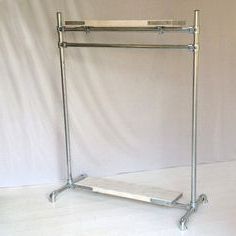 Examples how you can use tubes to make racks for clothing.
Most of the clothes racks that you can buy in stores are rather flimsy.
See how simple it is to make strong frames for your wardrobe.
The only materials that you will need are scaffolding tubes and tube connectors.
Use these recycling examples as starting point.
Then adapt the racks to your requirements and taste.
Use scaffolding boards or wood from the scrapyard to make shelves.
Reclaimed materials such as cable spools and metal from street signs are just a few of the materials that you can use to make furniture.
Other recycling projects are the repurpose of suitcases , old doors and car tires.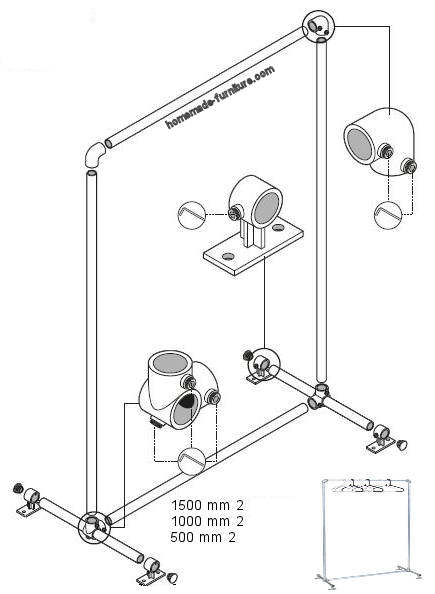 Parts list for the clothes rack on this construction drawing.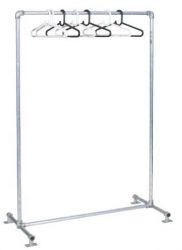 Two through corner connectors.
Plus two knee joints.
Four plastic end pieces.
And four foot plates or wheels.
Two tubes with a length of one meter fifty.
Furthermore two tubes with a length of one meter.
And finally two tubes with half a meter length.
Assembly of the wardrobe is really easy.
It is therefore a bit silly if we would write a step by step instruction how you must put all tubes together.
However, if it is not clear enough then you should read the automatic translation.
See the translated construction method for this wardobe.
The tubes to make rails and racks for clothing.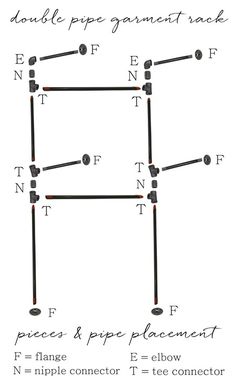 Scaffolding tubes are ideal for racks and wardrobes.
If you do not like the galvanised tubes then you could also opt for aluminium tubing.
The aluminium pipes and connectors are available a several colours.
Important >> Scaffolding tubes made from aluminium have a different diameter from the galvanised steel tubes.
For that reason you can not use clamps for alumium to connect stel tubing and vice versa.
An alternative for the scaffolding tubes are galvaised pipes from plumbing and their corresponding connections.
You will however notice that for plumbing there are less types of connectors available.
More racks and rails made with tubing and scaffold connections.