How to make a mitre joint in woodworking.
The mitre joint for wood is very common in many differents types of construction.
It make a nice clean angle at the corner, inside as well as outside.
This joinery can be used for both beams as well as for planks.
The typical way how most tabletops are made.
Mitred woodjoints do not leave the faceside of the cut visible.
Those short ends are always more rough and more prone to damage.
Therefore these mitred joints  protect the short ends, hence prolonging the lifespan.
Box to cut wood in mitre joint angles of 45 – 90 – 135 degrees.
How to make a tidy mitre joint between planks and wooden beams.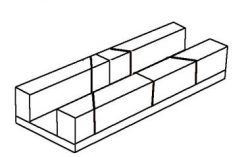 You have probably seen one of these tools before.
These are meant to make nice mitre joints in slats and planks.
This tool ony provides for 90 degrees angles, that is the most used angle for mitred woodjoints.
These wooden boxes have one great disadvantage.
They tend to wear quickly, specially if used by a beginner.
Once the cuts in the block get wider the mitre will not be exact anymore.
For that reason most carpenters prefer to use other tools to achieve a nice mitered woodjoint.
Different angles for a miter joint.
On this picture you can see that for a ninety degrees angle you have two mitered adges of 45 degrees.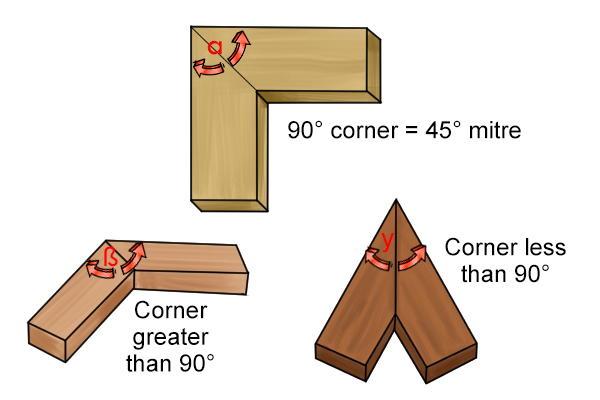 Woodjoints
made in the professional way may seem impossible for beginners.
Some types of joinery are very impressive if you have never made anything with wood before.
And it must be said that many traditional carpentry skills are not suitable for a one-off project.
On the other hand there are several great ways for joinery that anyone can use.
Connection of planks and beams with
dowels
is for instance very easy.
Slightly more steadyness with the saw is needed to make neat
lap joints
.
This content originates partly from our Dutch woodworking pages.
More woodjoints that you can use for homemade furniture.