Simple garden bench with crossmember frame.
This wooden garden bench is easy to make.
There is however one joinery method that you have to apply.
This is where the legs cross to make the shape of a capital X.
You make this woodjoint with a so called half joint overlap.
It is an easy joinery method, but it does requires the use of a chisel.
Furthermore we advise that you use a circular saw for this job.
That will make a much tighter woodjoint, a table saw or handheld circular saw are both fine.

If you do not have the right tools then you should not try this.
In that case you should instead make an even easier bench design.
That is a design for a garden bench which can be assembled with only self tapping screws.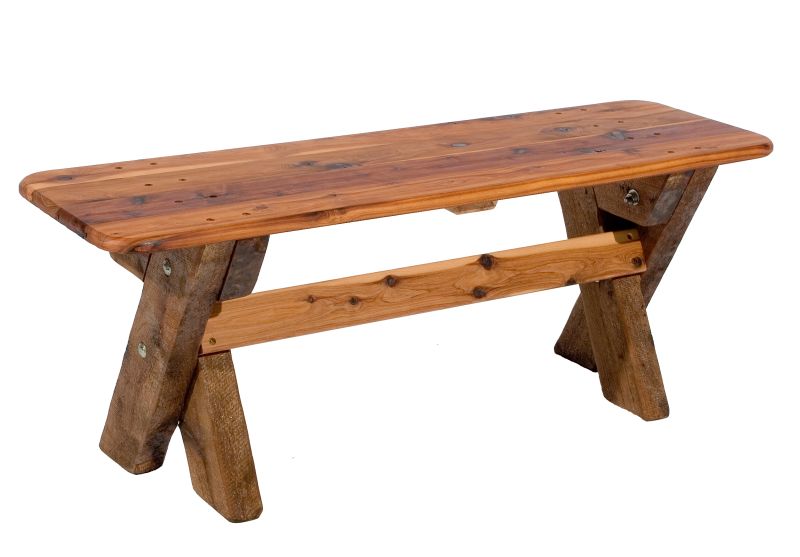 This is the exact same model as our construction drawing for a picnic table.
Therefore the construction method for this garden bench is identical as well.
The only thing that you will have to change are the dimensions.
At what height you will make the bench seats depends whether is will be used by adults or children.
A common height for the seats is about 40cms.
On the pictures below the method to make this cross member overlap joint.
Make multiple cuts in the wood.
These slots must go as deep as half the timber thickness.
Use a chisel with a mallet.
Remove all loose bits from between the previously made cuts.
Scrape the surface with your chisel to make it as smooth and flat as possible.
Repeat these previous three steps on the other crossmember.
Drill a hole through all parts that will be joined.
Apply wood glue to the surfaces of your timber where the parts meet.
Assemble with a big metal washer behind the bolt as well as the nuts.
This will prevent that the nuts and bolts will get pulled into the wood.
That would cause slack connections with the risk of a wobbly bench.
More examples and construction drawings to make a wooden bench.