Construction plans for a simple wooden bench without backrest.
Super easy construction of a wooden bench.
Use scaffolding planks or similar wood.
The cheapest materials to make this garden bench are recycled planks from the scrapyard.
You do not need to posess advanced carpentry skills.
Woodworking with scaffolding planks is very easy and straightforward.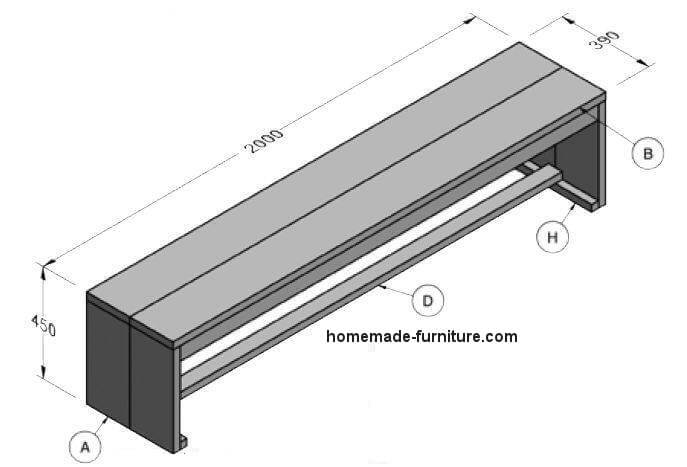 A 4 Planks 30x195x420mm.
B 2 Planks 30x195x2000mm.
C 2 Wide slats 30x62x266mm.
D 3 Wide slats 30x62x1936mm.
E 2 Square slats 30x30x266mm.
G 2 Square slats 30x30x1934mm.
H 2 Square slats 30x30x390mm.
Make two sides for the bench.
For each side you place two planks A on the floor.
Attach these with a full width slat A and a narrower slat E n the middle on the other side of the planks.
Make the bencg seating.
Lay the two planks B on the floor and connect them in the middle with slats C.
On the outside of the garden bench seating come the planks D.
First attach these to the slats C, then turn the seating around.
Now drive some screws from the seat top into the vertical planks D.
Fit the sides to the bench seat and attach with selftapping screws.
The last part to fit is crossmember D, to provide strength between the bench sides.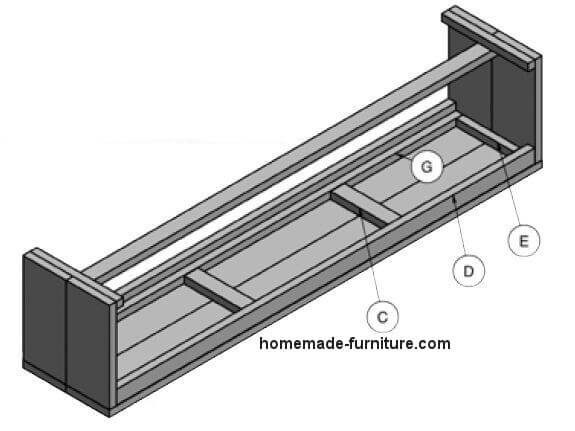 See more examples of how you can make this bench yourself.