Free instructions for homemade lounge furniture.
In this step we will make the backrest for this lounge chair.
The assembly of this lounge chair is identical to the instructions of a corner bench and how to make a garden bench.
How to make the backrest for a wooden lounge chair.
A – Planks of scaffold wood 30 x 195 and 600mm. long.
B – Planks 30 x 195 mm and 842 mm. long.
E – 30 x 62 mm x 600 mm.
G – 30 x 30 mm x 600 mm.
H – 30 x 62 mm x 600 mm.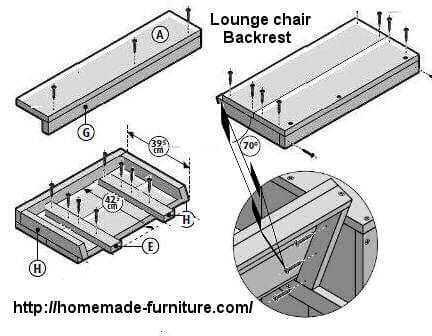 Assemby method for the lounge chair and wooden benches.
Connect one plank A with part G, this is an extra reinforcement againt bending.
Apart from that, it also make the chair seat look a lot thicker.
Place this part on the floor and align with another plank A.
Connect all parts to make the seat, using parts E, G and H on the garden chair plans above.
At the back of the seat the planks G on the side have to be cut at an angle.
This is one of the points where we will attach the backrest of the garden chair.
These do it yourself manuals are based on our Dutch furniture construction manuals for scaffolding planks.