Tubes from scaffolding to make a steel picnic table.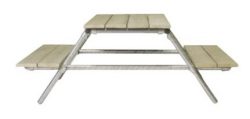 Just a few examples for easy assembly of garden furniture.
Learn the furniture assembly methods with the parts from reclaimed scaffolding.
Use rods and clamps from scaffolds, these are ideal to make a strong steel picnic table frame.
You can also use the reclaimed wood from scaffolding to make a tabletop and seats for the benches.
Table and benches with an A- Frame.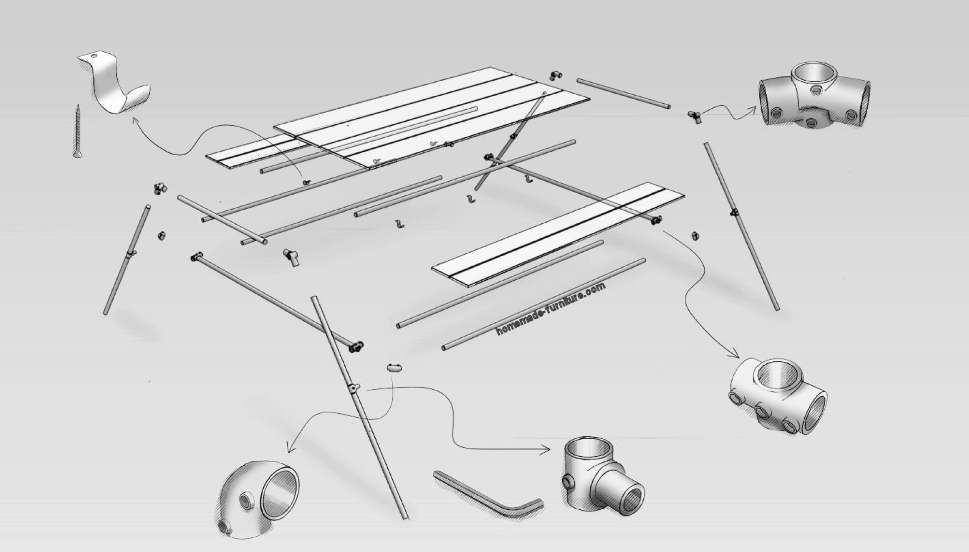 The table and benches above are based on an A – frame.
The tube clamps for these steel picnic tables have an angle that is more than 90 degrees, which is more usual for scaffold tube clamps.
Choose in the hardware store, the joints for pipes are available thicknesses.
Use fairly thick pipes.
42 Milimeters thick  is rather strong and very apt to make these galvanised steel garden tables.
Tube clamps with tight or wide angles.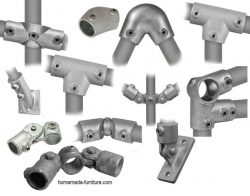 These clamps with an angle are available in many types.
Nevertheless the connections for scaffolding vary per country and continent.
Therefore we have made a compilation of the most used tube clamps to make angles larger or smaller than ninety degrees.
Choose between the clamps that are available at your hardware store.
The connections with a hinge are not as stable as the fixed angle corner clamps.
But sometimes you might need to make an angle that is not available in your store.
That is when you will have to opt for one of these adjustable angle clamps for tubes.
Steel picnic table frame and benches with a straight frame.
The table at the left is very easy to make.
We have an example how to make that frame from scaffold tubes.
The only differences the added cross tubes for the benches and the bench legs.
Steel
table frame construction drawing
, complete with all the clamps and measurements for the pipes.
More picnic table designs that you can make yourself.