How to make a simple picnic table with X frame support.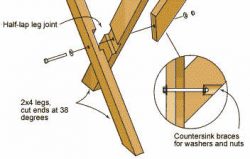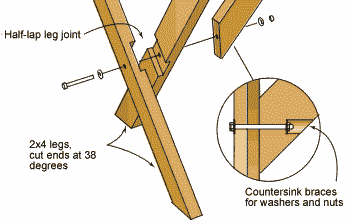 This is a very strong method for assembly of a picnic table.
There is no need for complicated joinery.
You will nevertheless have to make one important wood joint.
That is the lap joint where the table legs cross each other.
But no fear, it is really simple to make this joinery method strong and good looking.
Neither does it take long, if you start off with a table saw or circular saw.
It might take a bit longer if you use a hand saw.
Your result with a hand saw will not be as good as when you use electrical saws.
The reason for this is, that table saws and handheld circular saws have a setting for the depth.
That makes it a lot easier to chisel the wood away at the same depth.
As a result the joint provides a much smoother and flush point of contact.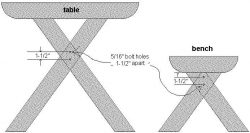 Tools that you will need are a saw, prefered electric and with a depth setting.
Furthermore you need a sharp chisel and a wooden mallet.
A good instruction for these picnic tables with X frame is illustrated with video on the site from Ana White.
Another great site for woodworking examples is buildeasy.
That is where we found this example for cross legged benches and excellent instructions for picnic tables.
Making the crossed legs for a picnic table and wooden benches.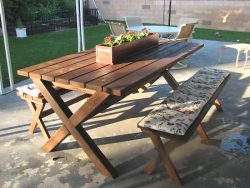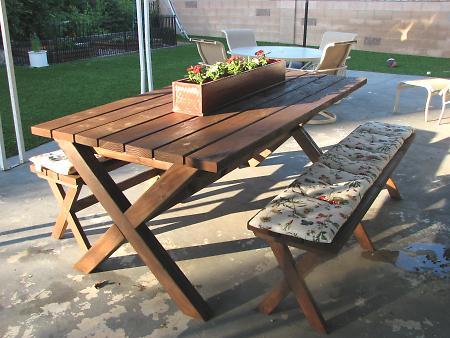 Mark the place where the joint will be, use a pencil.
Measure the thickness of your timber.
Divide by two, this is the depth for your cuts in the wood.
Make multiple cuts besides each other.
More cuts will make your chiseling a lot easier.
Now use your chisel to remove the surplus wood.
Do not try to remove large chunks.
You will notice that the progress is faster by removing blocks and wood chips in small sections.
Step by step illustrations for assembly of a X leg picnic table with matching benches.