Learn how you can make a television table without woodworking experience.
Constructions with scaffolding tubes and tube connectors are very easy and straightforward.
You will only need a few tools to make this tv table.
All that is needed are primarily a woodsaw and a metal saw or an angle grinder.
Furthermore only an allen key and a screwdriver for the self tapping screws.
These are the only four, very basic tools needed, and the hand tools are very cheap as well.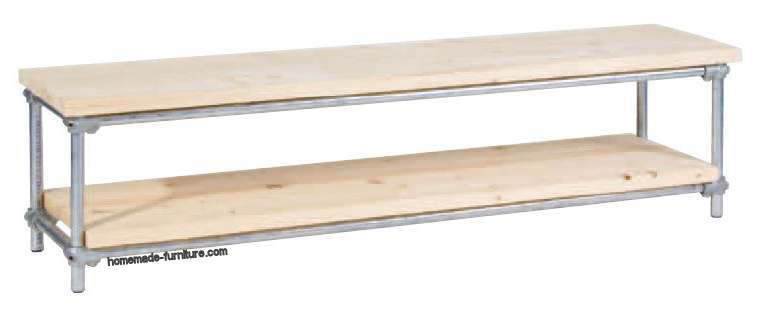 You can assemble this TV table in less than two hours, but let's not make it a race.
Spend a bit more time for the finishing touches.
That will greatly enhance the aspect of your homemade television table.
We have translated many of these construction drawings for scaffold pipes from our Dutch woodworking examples.
See the original instructions how you can make this television table.
Homemade furniture, construction drawings for scaffolding pipes.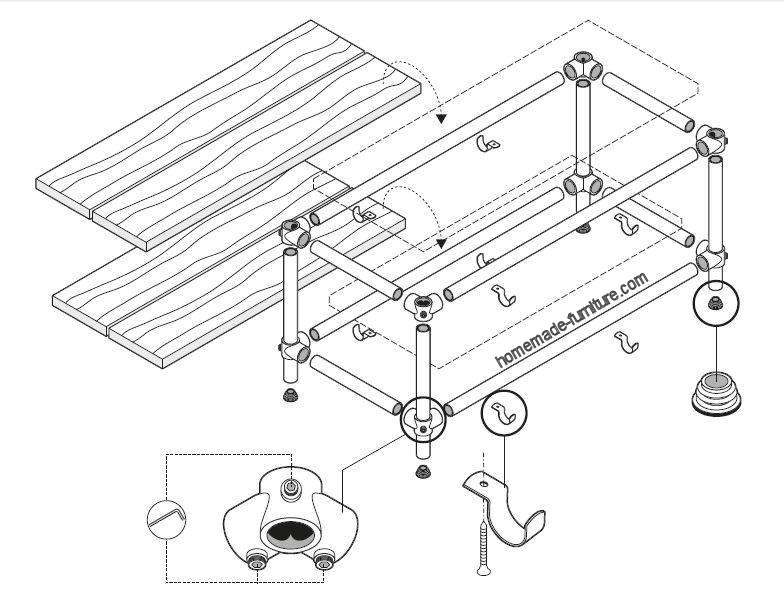 Parts list for assembly of the TV table.
First of all cut the tubes and wood to size.
Then start the assembly, make the table legs as first.
Tube clamps.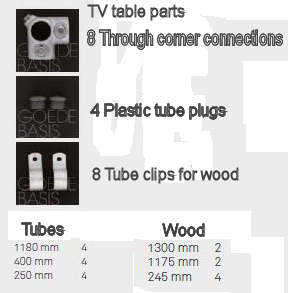 8 Through corner clamps for scaffold pipes.
Four plastic plugs for the tubes, to prevent scratching of rhe floor.
Eight clips for wood.
These hook around the tubes and the are attached to the wood with a self tapping screw.
Tubes.
Four tubes 1180 long.
Plus four tubes with a length of 40 cm.
And another four tubes measuring 25 cms. long each.
Wood.
You can use any type of wood, ofcourse it does not have to be scaffolding planks.
Two times 120 cm. long.
Plus two planks 117.5 cm long.
And finally four planks with a length of 24,5 centimeters.
Free construction drawings to make tables.
A few more examples and construction drawings to make a table.