Scaffold tubes storage rack with wooden shelves.
A versatile shelving unit construction drawing, made for scaffold pipes and wooden boards.
You can use these scaffold constructions for many purposes.
Apart from the obvious use in warehouses and storage rooms, you can also use these shelves to make furniture for in the house.
These step by step instructions for a warehouse rack are a translation of our international pages on bouwtekeningen voor steigerhout.
Free construction drawing to make warehouse storage shelves from scaffolding.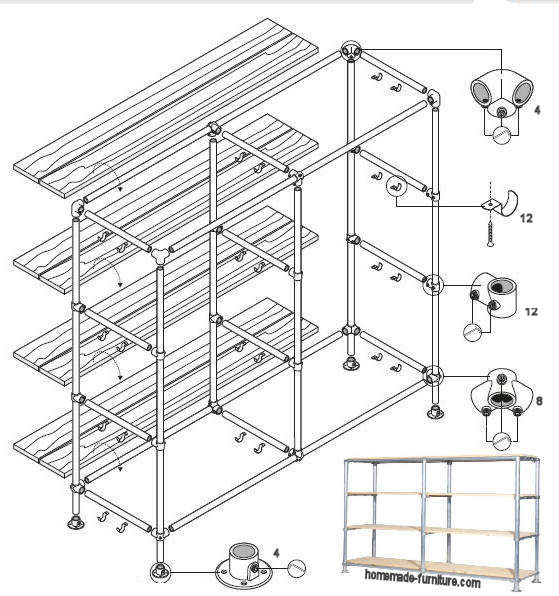 The parts that you will need to construct this shelving unit.
First of all, use thick pipes, 42 mm. is a good thickness for the frame of this storage rack.
The tubes and clamps for scaffolding are available in several thicknesses, and in this case we need a very strong structure.
Therefore the best tube size is arounf 40 milimeters.
Thicker tubes and clamps would make your storage facility a lot more expensive.
Twelve short T clamps.
Eight through corner connection pieces.
Four knee connectors, three way.
These are for the top of the frame.
Plus four round foot plates.
You can exchange these footplates for strong wheels.
Twelve clamps for wood and the corresponding self tapping screws.
Tubes cutting list.
Eight tubes, two meter long.
Two tubes with a length of 1.80.
Twelve pipes 41 centimeters long.
The wood to make shelves.
Eight planks, 210 cm. long and 19.5 cms. wide.
A good thickness for these shelves is three centimeters.
Assembly of the storage unit is straightforward.
If we would describe each step it would probably confuse you more.
Have a good look at the construction drawing for these starage units.
Then cut all the tubes and the wood according to the cutting list.
Fit all the parts together, assembly of the shelving rack.
Start with assembly of the vertical pipes, slide all the clamps and feet on each leg.
Then follow by sticking the connections in the clamps and slightly tighten the allen keys.
When the storage rack has been put together you will have to tighten all tube clamps again.
After that you have to fit the shelves to your storage rack, not before all is straight and perfectly lined up.
Some examples for wardrobes, storage units and furniture for in the living room.