How can you make a bed from scaffold tubes?
Here we show you how to make a strong frame for beds.
The materials are scaffolding tubes and the connections are metal joinery clamps from the same scaffolds.
Should I use steel or alumium as material for the bed frame?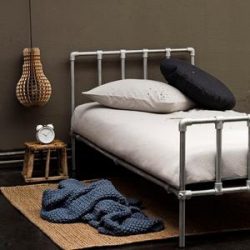 You could choose aluminium rods and connectors, these come in several colours.
The aluminium scaffold tubes are more smooth, this material is cleaner than the galvanised version.
Galvanised steel tubing is however cheaper and more widely available.
You can not interchange the clamps and connectors between aluminium and steel rods.
Both have different sizes, even if it is sometimes only a few milimeters.
Construction drawing to make a bed from scaffold tubes.
The construction drawing for this frame was designed for one adult.
It is however not difficult to change sizes, the method for construction of the bed stays the same.
What do you need to make this single bed?
First of all cut all tubes to the appropiate sizes.
Here is the list with measurements for a single bed with a length of two meters.
Simply adapt the sizes if you want to make bigger beds.
Two tubes, 2 meters long.
Furthermore two tubes, one meter long.
And four tubes 75 cm. long.
Plus two tubes 50 cm long.
Four tubes 25 cm.
And four of 80 cm.
Finally three tubes with a length of 8.6 cm. or 86mm.
Tube connectors that are needed for this construction drawing.
Sixteen short T connectors.
Four through corner joints, these are for the legs.
Six cross connectors with a 90 degree angle.
Four corner knee connectors.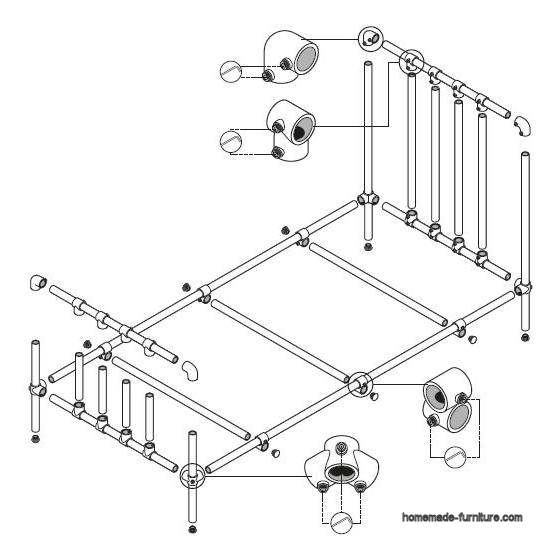 Double bed frame made of scaffolding tubes.
You should absolutely use thick pipes to make this double bed.
We suggest that you use scaffolding pipes and connections with a diameter of about 40 milimeters.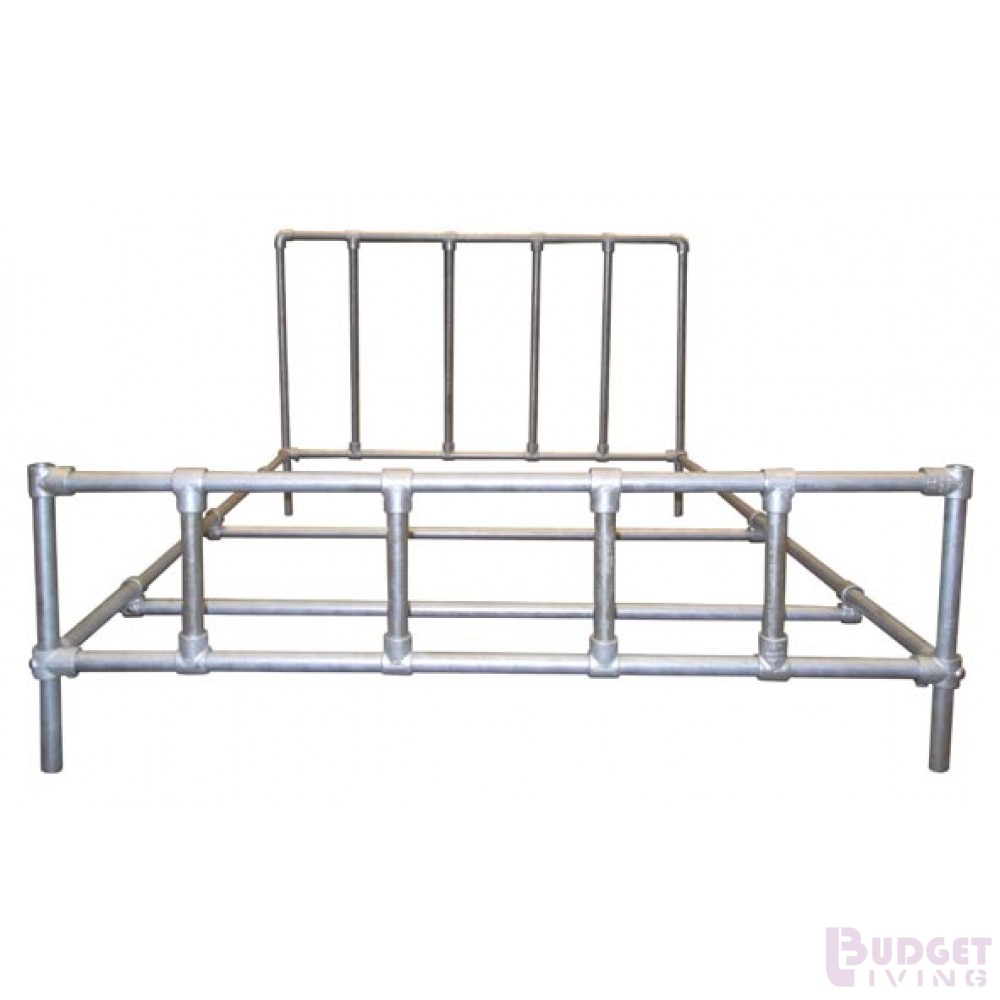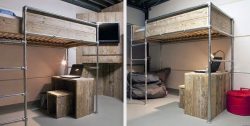 Another example to make beds for kids is this bunkbed at the right.
It was made in the same style as the single beds above.
Use an old bed bottom or use planks to support a mattress.
A good mattress and support for it is extremely important.
We love to use reclaimed materials.
But it is not wise if for that reason you have to sleep on a uncomfortable mattress bottom.
More uses for scaffolding tubes to make furniture.