Make a low side table with industrial design.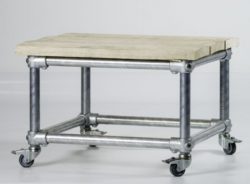 Pipes from scaffolding and corresponding tube clamps are the basis for this low lounge style side table.
The wood are planks from scaffolding, but any reclaimed planks will do.
It looks great when you use driftwood for the tabletop.
But probably you will want to use the planks from the same scaffolds that provided the tubes and clamps for the side table frame.
You could fit wheels under the frame.
This basis for the frame can be used to make many types of furniture, noot just tables.
Construction drawings to make furniture with repurposed scaffolding tubes.
This is a translation of our Dutch woodworking instructions.
Shopping list.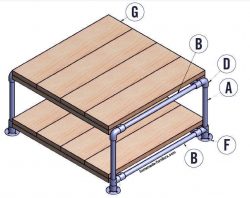 3 Planks 30x195x2500mm.
2 Slats size 30x62x2500mm.
4 Tubes, 2 meters long each.
4 Knee clamps in 90 degrees.
12 Short T – clamps for scaffold tubes.
4 Round foot plates.
1 Box with 100 self tapping screws.
Use screws a bit shorter than double your wood thickness.
For planks of 3 cms. thick use screws 5.5 cms. long.
Construction drawing and assembly parts for the side table.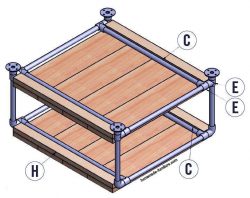 A 4 Tubes 377mm.
B 4 Tubes van 714mm.
C 4 Tubes van 788mm.
D 4 Knees 90 degrees angle.
E 12 Short T clamps.
F 4 Round footplates.
G 8 Planks 30x195x780mm.
H 4 Slats 30x62x780mm.
The scaffolding tubes or pipes are available in several sizes.
The most common size for these side tables is 27 mm.
But on the other hand thicker tubes like the 42mm. pipes give the table a more sturdy and industrial look.
The tabletop could be made in several ways.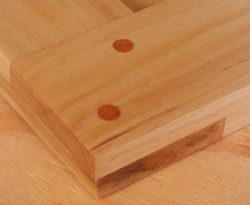 On the construction drawing you see a tabletop which consists of several planks fitted lengthwise.
These have been connected under the tabletop with the slats H.
You will not see these afterwards, they are hidden under the tabletop.
A lot nicer are tabletops that have a mitered border.
It is not difficult to make this mitered edge, but you have to work very tidy and accurate to make nice joinery.
The example on this picture has a nice tabletop edge with an overlap joint that was strengthened with dowels.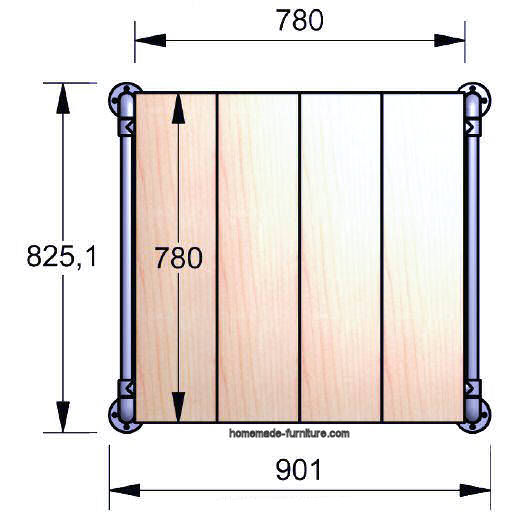 More examples of tables to make by yourself.
The main materials to make these table models proceded from old scaffolds.
Reclaimed wood and tubes in combination with tube clamps make extremely strong tables.