News stand rack for display of folders and magazines.
Display shelves for literature on a wall mounted rack made from scaffold tubes.
Use any type of reclaimed wood to make the shelves.
We have made a list with all the parts that you will need to make this furniture.
However, these are just suggestions for a quick start.
You could easily change the dimensions, even the complete design.
The construction materials are extremely versatile.
Therefore you can make almost any shape and size for your news stand or book shelves.
But make sure that your construction can support a high weight.
Use tubes with a larger diameter if the frame has to support many books with a high weight.
Standard size for these magazine racks are tubes with a thickness of 27 mm.
A thickness of 42 mm. is adviseable for the larger constructions like wardrobes , coat hangers and racks for clothes.
Construction drawings to make a storage rack with frame from scaffolding pipes.
Parts list to make a magazine rack exactly as on the construction drawings.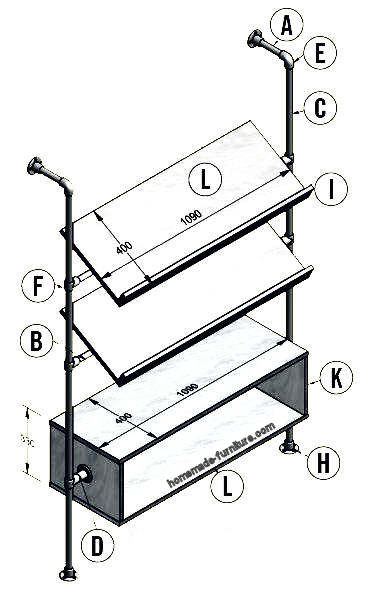 A 2 Tubes with a length of 180 mm.
B 2 Tubes 1235 mm. long.
C 2 Scaffold tubes 2000 mm. long.
D 2 Short tubes length 70 mm.
E 2 Corner clamps.
F 6 T- Connections.
G 4 Railing holders.
H 6 Foot plates.
I 2 Wooden boards 1090x45mm.
J 1 Board 2200×400 mm.
K 2 Boards 300×400 mm.
L 4 Boards 1090×400 mm.
You can change most of these dimensions at will.
However, large news stands and library walls will need thick tubes and corresponding clamps.
It is important that you connect the rack strongly against a wall.
For that reason you have to be sure that the wall will support the considerable weight.
The support is not just for the tubes and wood, but also a lot of extra weight when the shelves are full with books and magazines.
Assembly method.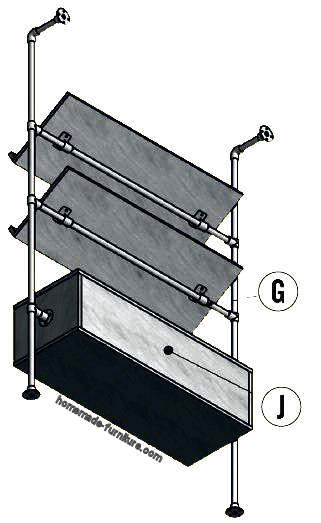 Firstly make an open box for the books.
Connect the panels K and L to make a box shape.
This can be done with self tapping screws, but there are many more sofisticated woodworking techniques to make such boxes.
Have a look how you can make a box joint and trench joints with a dado tool.
Another assembly method is the use of dowels.
Screw round foot plates H to each side of the box.
Then make the side supports.
Slide the T connections round the long tubes.
Tighten the allen keys only lightly, you will have to tighten them later on when all parts will be aligned.
Fit the round foot plates H to the sides.
Connect the corners E to the top and extend them with the short tubes A.
Make shelves from L and I.
Use the railing holders G to connect your shelves to the horizontal frame pipes.
Now bring all the parts together.
Slide all tubes in the corresponding clamps, have a good look at these construction drawings.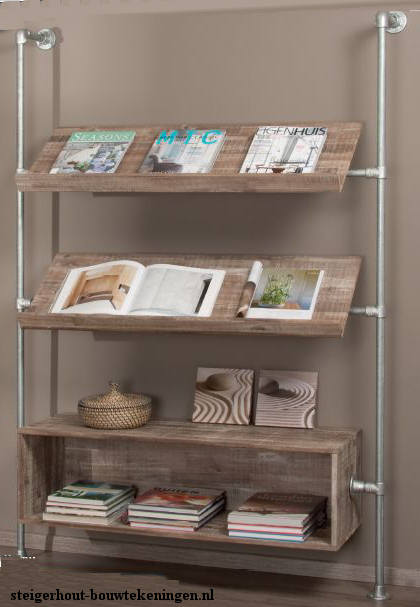 This example was first published in our Dutch woodworking instructions.
Book shelves made from repurposed scaffolding.
More do it yourself furniture that you can make from reclaimed scaffolds.
Repurposed pipes from scaffolds and reclaimed wooden boards.
Strong materials with an industrial look.
Easy assembly without complicated joinery.