Scaffold loft bed, cheap and easy do it yourself construction.
All materials to make this loft bed were previously used as scaffolding.
You can obviously also buy these materials in any hardware store.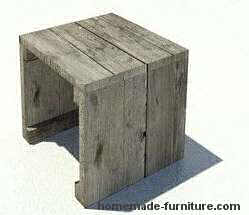 The seats and side tables on these pictures above are really easy to make.
You will only need one board to make a stool which can also be used as a side table.
Assembly of those wooden stools does not even take a full hour.
Tip >> Try to use reclaimed wood instead of new boards.
The old weathered planks look a lot better.
Specially if you treat them with a wood stain or white wash finishing method.
Assembly of the metal frame for a loft bed.
Materials for the construction of this high loft bed for children.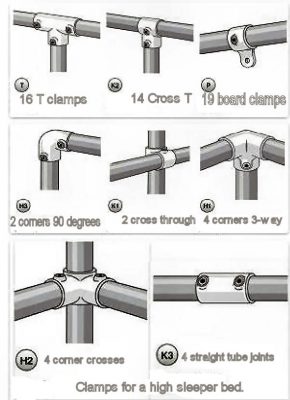 As on the picture at the right.
14 X Galvanised or aluminium tubes of 2 meters long.
16 X Tubes with a length of 1meter.
16 T- Clamps.
14 Crossed T.
19 Anchor plates for wood.
2 Corner pieces 90 degrees.
2 X Crossed through connectors.
Four corner connectors – 3 way.
4 Crossed connections for corners.
And finally 4 Straight tube connections.
We will not mention any measurements for the wood.
That depends on the final sizes of the bed that you have just made.
Measure everything well when the frame is ready. Make sure that all connectors are tight.
Fix the bed to the wall, there must not be any chance that the bed can tumble over.
That is when you start to cut the scaffold boards to desired sizes.

The loft bed will probably be more comfortable if you use a reclaimed bed base.
That could be a mattress base with springs or a wooden bed bottom.
These examples were translated from the Dutch woodworking instructions.
Furniture made with scaffolding tubes.
How to make furniture with tubes and old planks from scaffolding.