Construction plan to make a strong kitchen trolley.
This kitchen trolley is easy to assemble by yourself.
Use our shopping list for all the tube clamps and let the hardware store cut all the tubes for you.
Adapt the sizes to your needs.
Make a large size or small trolley, with or without a lid for the garbage can.
This construction drawing is mainly meant to show how these trolleys are made.
Use the construction plan as inspiration, so that you can modify the trolley model to your needs.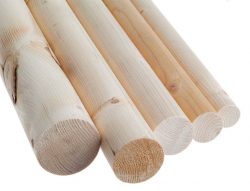 You have three choices for the tubes.
Firstly, and the most used, are the galvanised pipes from scaffolds.
Secondly you might choose pipes from aluminium.
These aluminium scaffold pipes are more smooth, have a colour and they are lightweight.
And finally you might want to use wood for the frame.
Round wood is available at the sizes for scaffold clamps, but not in every hardware store.
You can find more examples on our Pinterest board about Tube Furniture.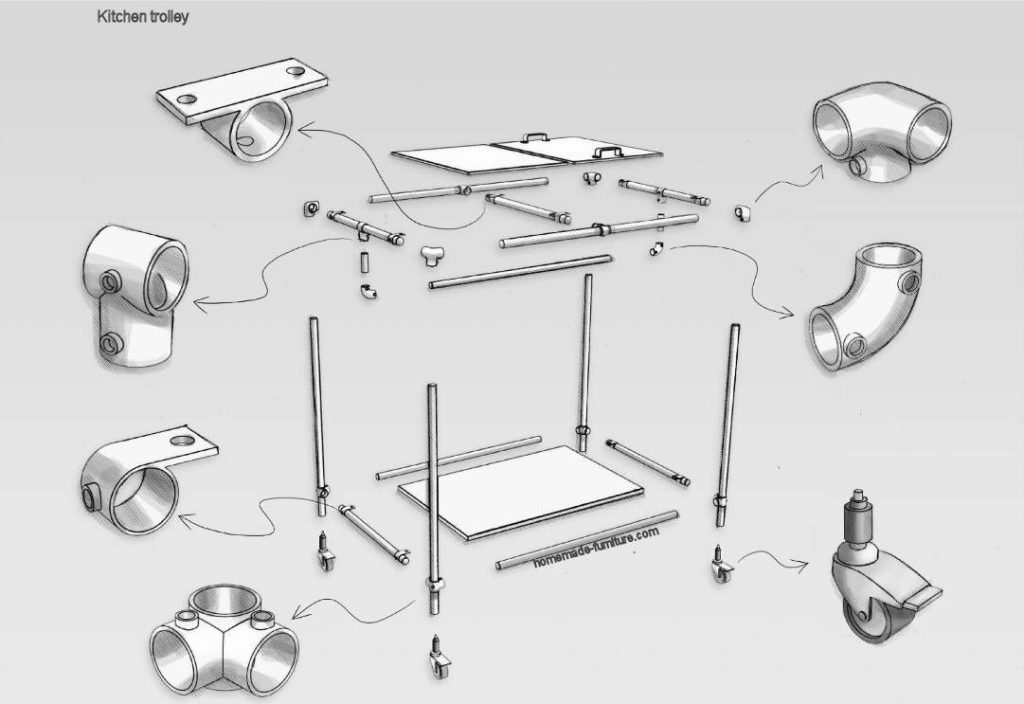 Shopping list to make this trolley for in the kitchen or bathroom.
Four corner through connections.
Two knee joints in 90 degrees.
Four short T – connections for scaffold pipes.
Eight clips for connections of panels to the tubes.
You have several options to use, but these clamps should make the boards flush with the frame.
Four wheels.
The tubes for the legs about 65 cms. long.
Bear in mind that the wheels add to that height, so make sure that the trolley does not become too tall.
Furthermore you will need eight tubes for the horizontal connections.
The length of these tubes depends on how big you want to make this trolley.
A standard size would probably be about 70 centimeters.
These are the tube clamps, connections and tubes that you will need to make this kitchen trolley.
Make a tabletop for the trolley according to the purpose.
Some people like to use this trolley for placement of a garbage bin.
For that purpose you will need to make a lid in the tabletop.
Now start by making the assembly for the trolley legs.
Slide the corner pieces arounbd the tubes and attach the wheels.
Make the top part of the frame with support for the tabletop.
Attach this top with the clamps to fit the tabletop flush with the tubes.
Slide board clamps around the lower horizontal tubes.
Now connect the trolley legs together with the horizontal connections and connect them to make a frame.
Place the top frame on the table legs, align everything and tighten the allen bolts.