Steel standards and support poles for a hammock.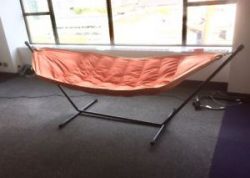 Examples how you can make a strong frame to support hammocks and swings.
Tubes from scaffolding are the base material to make these frames.
The frames can be dismantled when you do not use the hammock for a longer time.
Tube clamps are available for many sizes of scaffolding pipes.
We recommend that you use a fairly large diameter to make these constructions.
A tube size around 40 milimeters is strong and still fairly affordable.
Bear in mind that the price for tubes and scaffolding clamps rises exponential with an increase of the tube diameter.
Permanent fixture of hammock support poles in concrete.

The scaffolding poles in this example above could be placed in sockets.
In that case you will be able to remove them if you want to mow the grass.
We advise to fit these hammock supports in a steel socket that you embed in a block of concrete.
That is also very handy if you wish to remove the hammock support pipes for the winter season.
Free standing supports for a hammock, made with steel pipes from scaffolding.
You will fit the pipes together with a series of scaffolding clamps.
The only tools that you will need are a metal saw and an allen key.
Do you want a permanent or mobile fixation of the hammock?
Permanent fixation of hammocks on anchored scaffolding tubes.
A permanent support is usually great for small spaces.
The frame will occupy less space and the fixation is more stable than mobile hammock supports.
On the other hand, this inmobility can also be a disadvantage.
Your hammock stand will always be there, and this might impede the use of that space for other purposes.
Examples for home made furniture with scaffolding tubes.