DJ booth for concerts and gigs, table frame on wheels.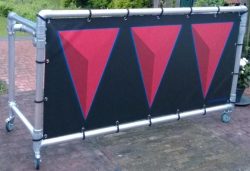 These tables for DJ's are easy to make by yourself.
We have a good construction drawing which shows clearly how to fit all parts together.
This booth is very similar to our other DJ table drawings as on the picture at the right.
The construction plan below has the wheels under the frame as main difference.
Each of these tables for DJ's has a frame from aluminium tubes.
These aluminium pipes from scaffolding are in the first place a lot lighter.
Secondly they are available in several colours, and that make the finished booth look very nice.
On the other hand there is nothing wrong if you prefer the steel tubes.
Scaffolding tubes made of steel are a lot cheaper.
Apart from that, the industrial look fits very well in any venue where you have to provide the sound system.
What do you need to make this DJ table on wheels?
The tools for this Discjockey trolley are an allen key, a saw for metal and a woodsaw.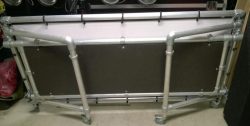 Shopping list for all materials.
Four times a threeway knee corner connection for the top corners.
Plus four knee connections in a 90 degrees angle.
And four eye parts of hinges for connections of the tabletop to the frame.
Furthermore four complete lift off hinges, pins and eyelets.
Plus four wheels. Use strong wheels because they will get handled roughly.
And four expanders if needed.
These might be needed to fit your wheels in the table legs.
Four vertical tubes for the legs, about 80 cm. long.
Also four tubes for the booth width, a size between 1290 and 180 cm. is probably fine.
The top can be made from wood or metal.
Maybe you want to use some fancy looking aluminium sheet or reclaimed wood.
The sizes of the frame depend on the size of your tabletop – workspace.
It depends how deep you want the table to be, but most likely you will have o use pipes of about 80 cm. for the tubes that make the depth.
Have a look at our Pinterest board about scaffolding tubes and furniture that you can make with these pipes.