Scaffold pipes as construction material for a transportable DJ booth.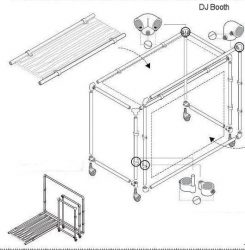 Easy assembly method to make a DJ booth.
This design consists of panels that hook together with scaffold hinges.
The construction of this DJ furniture takes about three to four hours.
After this first assembly you will have several parts that are easy to transport.
Assembly on location of the venue is very fast.
You can hook all parts for the DJ booth together, the only tool that you will need is an allen key.
We also have an example how you can fit these booths on wheels, that makes the transport even easier.
These are the connection pieces that you will need to make the booth.
Parts list for this construction plan.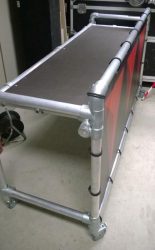 The tube connectors –  pipe clamps.
Four Three-way knee corner pieces.
Eight knees in 90 degrees.
Four board clamps to attach panels.
Plus four hinges consisting of a pin part and the corresponding eyelet.
Scaffolding pipes.
Thicker tubes look a lot better.
Aluminium tubes are available in many colours.
Steel tubes have different sizes than aluminium pipes.
Choose whether you want galvanised tubes or coloured aluminium tubes.
The first are a lot cheaper, the latter look better and they are available in several colours.
Steel weighs considerable more than the aluminium scaffold pipes, and that makes the transport a lot easier.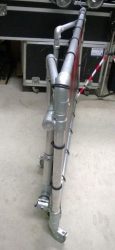 The length for these tubes depends entirely on your demands.
Probably he height for the DJ booth will be close to 85 cms.
Therefore you will need four tubes of about 85 cms.
Plus four tubes for the width (Two under the top and two on the floor) and four to make the depth of the booth.
As an example we made the following list with sizes to cut your tubes.
Firstly 4 x 85 for the legs.
Plus 4 x 70 for the depth of the DJ booth.
And four tubes for the width, say 120 cm.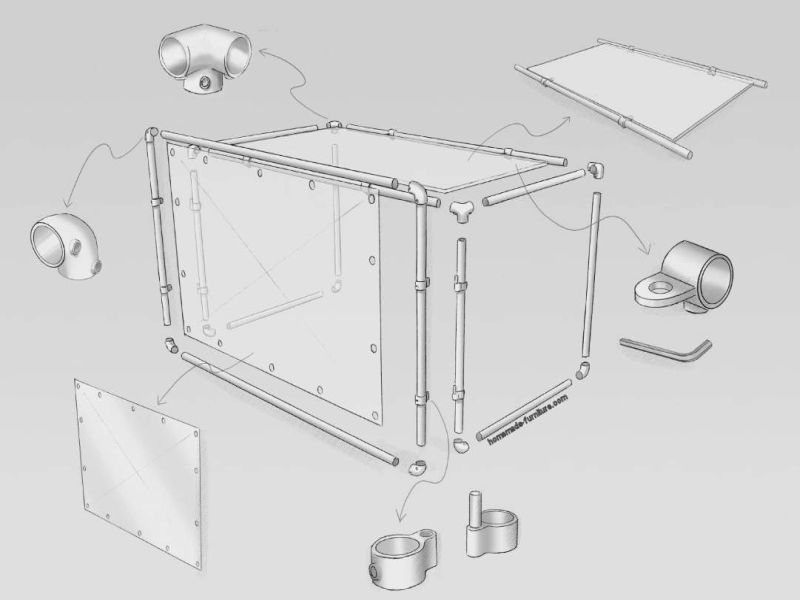 The next do it yourself construction example shows how to make a DJ table on wheels.
A very similar structure for the frame, but even faster to assemble.