Vestibule rail for clothes in a hallway or dressing room.
See how you can make a vestibule with industrial design.
The materials are new or repurposed scaffolding tubes and clamps in combination with reclaimed planks.
With these materials you will make a strong coat hanger for in the hallway, lobby or entrance of your house.
This hallway vestibule is easy for self assembly.
A step by step instruction is hardly needed, just have a good look at the construction drawing.
Most hardware stores will be happy to cut the scaffolding tubes for you, but it is not hard to do it yourself.
Construction drawings for a vestibule.
This is a strong construction with supports bolted to the wall as well as to the floor.
Use thick tubes and clamps, 42 mm. is a good thickness for this coat hanger.
These examples are a translation from our Dutch do it yourself instructions.
Explanation of all parts on this construction drawing to make a vestibule.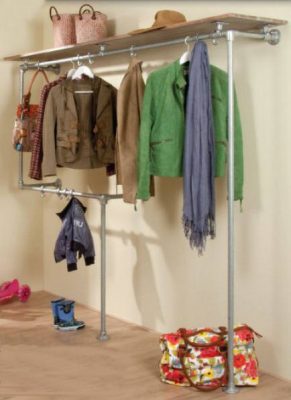 A 1 Pipe 1000 mm. long.
B 1 Pipe length 1700 mm.
C 1 Scaffolding pipe 2000 mm.
D 4 Pipes 300 mm.
E 2 Pipes 835 mm.
G 4 Corner claps.
H 10 Hooks for coats or hangers.
J 1 Railing support.
K 4 Foot plates.
L 1 Panel made from reclaimed wood, size 40×220 cm.
You will not need a lot of tools to make such clothes rails and racks.
A saw for the tubes and another one for the wood are your essentials.
Furthermore you need an allen key for the tube clamps and ofcourse something to make precise measurements.
More construction drawings for coat hangers and rails to suspend clothing.
Among these construction drawings are also several rails for curtains and the methods to attach these firmly.
Whether you use them for curtains or for hanging clothes, the method for construction and assembly will be the same.