Original furniture that you can make from a reclaimed wooden cable spool.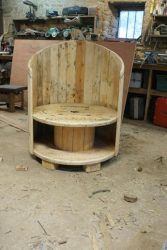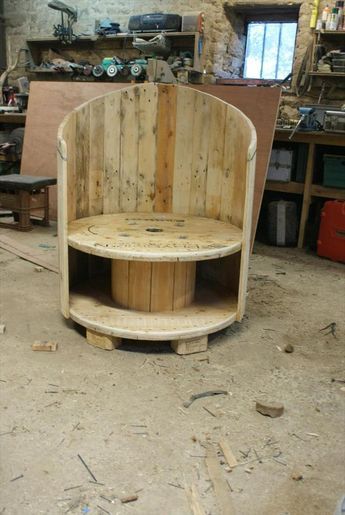 Repurposed reels from cables have the same characteristics as the wood from pallets.
The wood has been impregnated with a preservation liquid which goes deep into the fibres.
Therefore a cable spool will not rot as easily as soft wood normally does.
You do not need to worry about the anti fungal and insect repellent products.
The cable spool will most like have been outside for many years.
As a result most of the wood preservation products will have disappeared.
Just as happens with the planks from pallets.
It is nevertheless not wise to place this furniture on a wet surface.
As with all garden furniture a dry undergound will greatly enhance its longevity.
Make a rocking chair from an old cable spool.
The backrest for this rocking chair is reinforced with two metal rods from an old terrace chair.
Use any material that is at your disposition, you do not have to follow these examples exactly.
Blocks at the back and wheels at the front prevent the chair from falling over.
These wheels make it easy to move it, because these chairs are heavy.
A couple of cushions will considerable enhance the chairs comfort.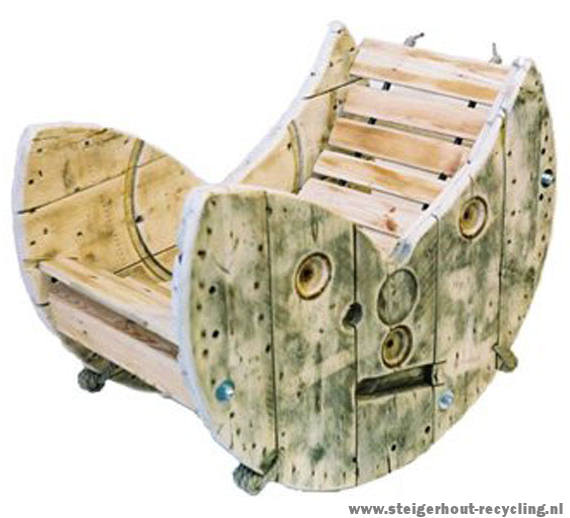 Tables and stools, from a large cable spool and several small ones.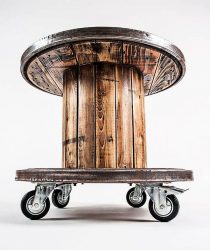 Tables on wheels and fixed terrace tables for outside.
One of the advantages and at the same time a disadvantage of this furniture is the weight of these reels.
The heavy weight can help to prevent theft.
Not the small cable reels, those can be lifted easily.
But large tables made from heavy reels are ideal on the terrace of a bar.
Nobody will try to lift such a massive terrace table.
The diy example below comes from our dutch woodworking site.
However, we do not know who was the first one to make this garden furniture set.
There is hardly any work that has to be done if you want to make such a garden set.
Most effort goes in the finishing touches.
Thick cushions will greatly enhance the comfort.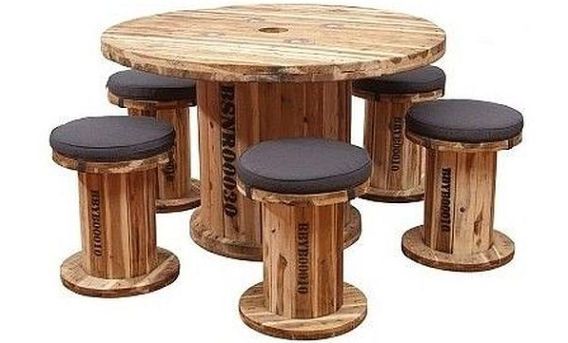 Sanding of a cable spool can be hard because of the roughness of this wood.
Metal protrusions can rip your sanding paper easily.
For that reason you might consider to leave the sanding step for other furniture.
Simply stain the wood, and maybe use some smoother boards as a tabletop.
More diy examples for these reels will follow soon.
Do not forget to bookmark us.
The content on these pages about woodworking is rapidly expanding.
In the meantime you might check our other recycling tips.