Make your own planters out of reclaimed wood.
Easy DIY plans and examples to make your own garden furniture and planters.
Rectangular and square wooden boxes for your outdoor plants.
These planter designs can also be used for inside.
You could use these wooden boxes as a embellishing cover for ugly plant pots.
The planters are also very nice to use as surround for hydroponic buckets.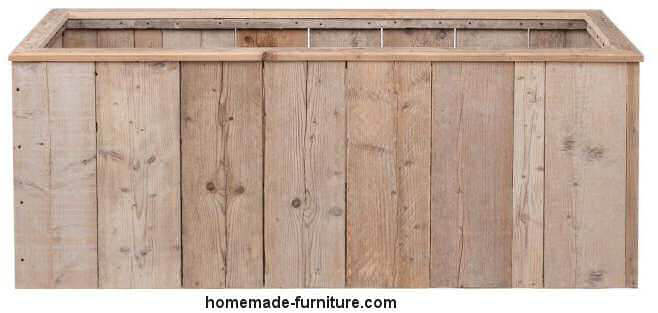 Construction plans for a wooden planter.
Parts shopping list to make a wooden box for plants.
4 Planks size 30×195 mm. and 2500 mm. long.
1 Wide slat, 30×62 mm. and a length of 2500 mm.
2 Square slats to connect corners, 30×30 mm. and 2500 mm. long.
Furthermore you will need a box of 100 selftapping screws, but not all of these will be used.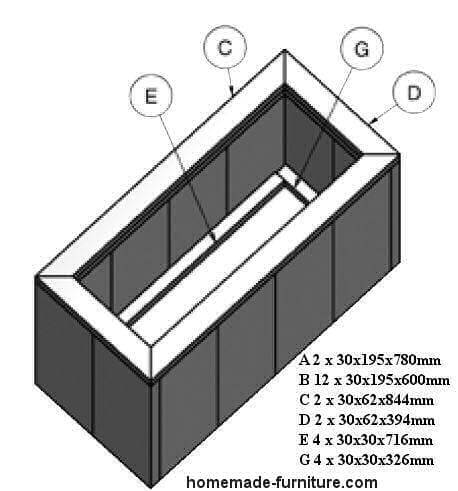 Parts list to make a wooden plant box.
Compare these parts with the construction drawings for the planter.
A 2 Planks 30×195 and 780mm. long.
B 12 Planks 30×195 and a lenth of 600mm.
C 2 Wide slats of 30×62 and 844 mm. long.
D 2 Wide slats 30×62 and 394mm. long.
E 4 Square slats 30×30 and a length of 716mm.
G And finally the last 4 Square slats measure 30x30x326mm.