Free woodworking examples and plans how to make a low lounge table.
First of all, this scaffold wood lounge furniture is probably the easiest set of woodworking plans.
Make your own tables, construct wooden benches and chairs from scaffolding planks.
This wooden lounge table is part of a three piece furniture set.
Good weather treatment makes these tables suitable for inside as well as outside.
A woodsaw and an electric screwdriver are all that you will need for the construction of a sturdy homemade lounge set.
As a result you do not need any special woodworking equipment.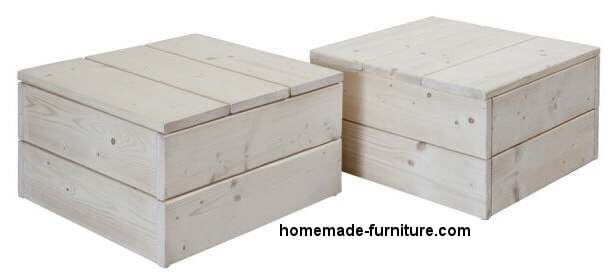 How to make a coffee table in lounge style.
First of all, how to make these wooden tables and lounge furniture is based on Dutch tutorials for woodworking.
Therefore you might have a look at those Dutch examples and drawings as well.
Most noteworthy, the same woodworking plans and drawings can be used to make both square and rectangular garden planters.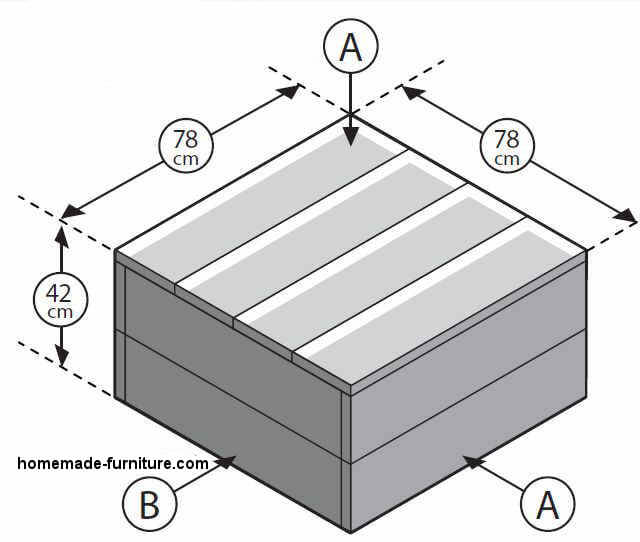 Parts list and wood sizes to make a square lounge coffee table.
A 8 Planks 30×195 and 780mm. long.
B 4 Planks 30x195mm and 720mm. long.
C 4 Slats 30x30mm and 390mm. long.
D 4x Slats 30x30mm and a length of 656 mm.
And finally you will need 64 Screws of the size 5x50mm.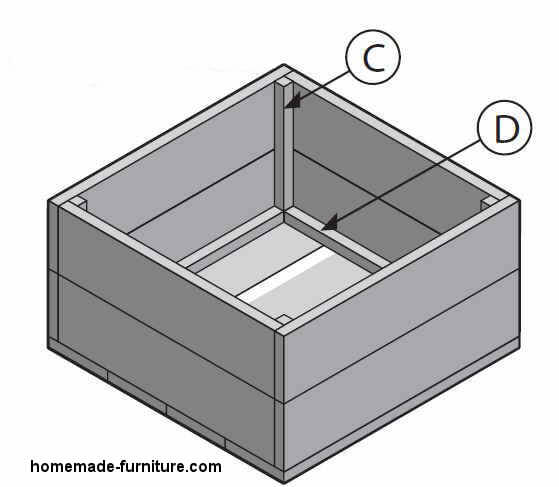 How to make a lounge style coffee table from scaffold planks.
Firstly place four planks A on a flat surface against each other.
Then connect the planks at the edges with the four slats D and a few selftapping screws.
Make two panels of two planks A each and slats C on each side to connect the planks.
Attach these previously made panels to the slats D,
Now attach the last planks to the open sides.
Add more selftapping screws to solidify all planks to the box structure.
And finally you can now sand the loungetable and finish to your likings.
Combine this coffee table with our other free plans and instructions for homemade lounge furniture.