Step 6 of the instructions to make lounge chairs and wooden bench from scaffolding wood.
Finally the assembly of a homemade wooden bench and chairs, positioning the backrest.
Construction drawing for the final fitting of a garden lounge bench and chairs.
Most noteworthy is that your benches and chairs will look great.
Especially because they are homemade with scaffolding wood.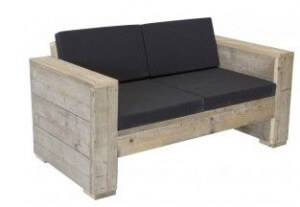 Here are the last instructions to make a wooden bench in sturdy lounge style.
We will fit the backrest which was made in a previous step.
It is a very easy task, the only thing that you need to do is fixating the backrest between the armrests and behind the bench seat.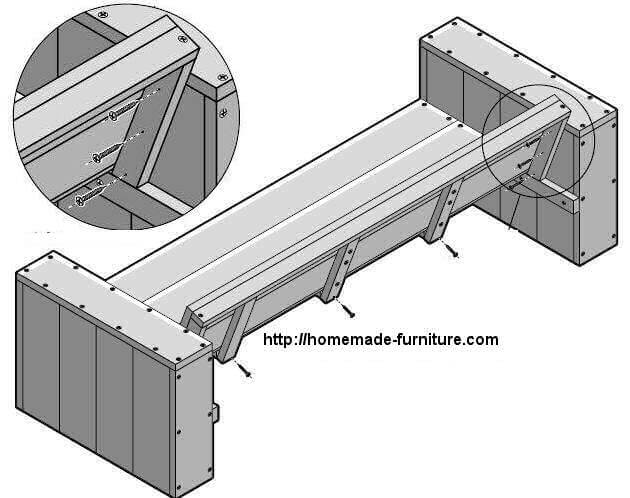 Step by step instructions and example on drawings.
Support the backrest on top of the slats which hold the bench seat.
Fit one screw on each side and do not tighten this completely yet.
Now you can still move the angle of the backrest, so choose a comfortable inclination of the back panel.
Fixate the backrest with some extra selftapping screws and tighten all of them.
Now you can also completely tighten the screws which hold the bench seat.
It is easy to forget tightening these screws under the bench, because we left them slightly loose in the previous step.

Explanation of the construction drawings and parts of the wooden bench.
Use this list to cut all parts before assembling the homemade furniture.
The best method would be protecting all these parts before assembly of the furniture.
It is preferable to potect the scaffolding wood with an anti fungal and insect repellent product.
These homemade garden benches will last for a long time if you give the scaffolding wood a proper treatment.
A – 5 planks x 2 meters.
B – 2 x 84.2 mm.
C – 20 x 60 cm.
D – 3 x 30x62x525 mm.
E – 3 x 30x62mmx425 mm.
G – 2 x 30 x 62 mm x 2 mts.
H – 2 x 30 x 62 length 395 mm.
J – 2 x 30 x 62 x 810 mm.
K – 8 x 30 x 30 x 775 mm.
L – 1 x 30 x 30 x 19345 mm.
Previous steps in these instructions.
How to make a lounge bench with old planks from scaffolding.
Make the four panels for two armrests / sides of the scaffolding wooden bench.
Assemble the armrests, these are the sides of the lounge bench.
Make a backrest, this will be fitted under an angle in step 6 which is this very same page you are reading now.
For a strong wooden bench the seating area must be strengthened with a few slats.
Mount the bench or chair seat between the armrests.
Fitting of the backrest under an angle is this last step of these manuals, as seen on the blueprint above.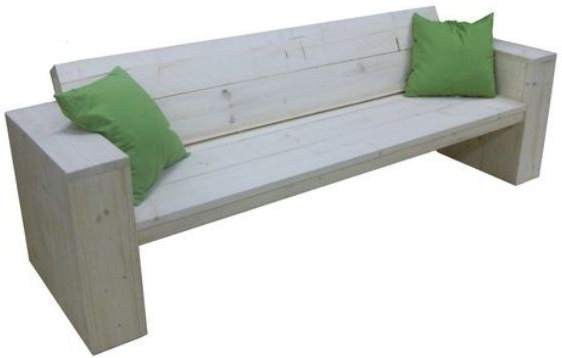 Introduction to lounge furniture made of scaffolding wood.
These construction drawings for homemade furniture were derived from our Dutch and multlingual woodworking site.