Homemade garden bench tutorial step 3.
How to make a backrest for lounge benches and chairs.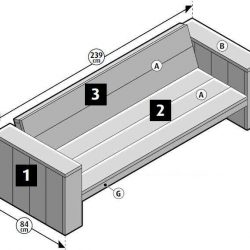 In this third part of our homemade lounge furniture tutorial we show you how to make the backrests.
On this blueprint you see the backrest for a garden bench, but the backrest for lounge chairs are made in exactly the same way.
The only difference between these lounge benches and the lounge chairs of scaffolding wood are the length of seats and backrests.
Both the benches and the lounge chairs are made from four panels.
This assembly system makes the furniture easy transportable.
Make the backrest for lounge chairs and garden benches.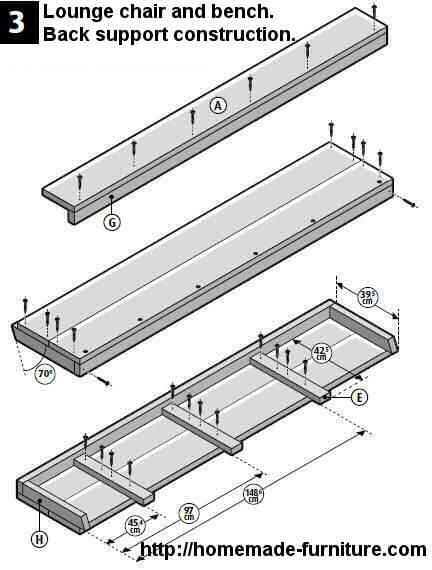 A – 5 x 2 meters.
E – 3 x 30x62mm and 425 mm. long.
G – 2 x 30 x 62 milimeter and 2 mts. long.
H – 2 x 30 x 62 length and 395 mm. long.
Fit parts A and G together with selftapping screws.
The planks G will be on the frontside of the benches seat.
This gives extra strenth to the bench seating area, and it also makes the seating look thicker.
Connect the slats E to the previously made part, as shown on the blueprint above.
Slats H will have to be cut in a slight angle to accomodate connection with the backrest.
These slats will serve as well for connection with the armrests.
Use fairly thick wood for these parts, the same thickness as the scaffolding planks would be ideal.
Finally finish the seat as shown above and tighten all screws.
We personally like to give all scaffolding wood a good protection, before fitting it all together.
Cut all the planks in one go with the help of our sawing list.
After that you first give it a treatment against influences from nature, any wood preservation product will do fine.
This way it is a lot easier to protect all parts of the wood against mould and insects.
Then, after complete assembly of the loungeset we give it another layer or two with our prefered method and finishing product.
Introduction to lounge furniture made of scaffolding wood.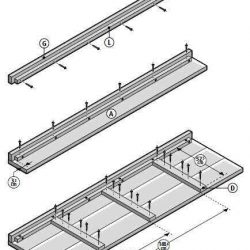 The first step for lounge chairs as well as garden benches. Make four panels for the armrests / sides of the bench.
In the second tutorial we convert these panels to the two side elements.  – Assemble the sides for this bench.
The backrest for benches and lounge chairs.
At the moment and here on this page we make a back support for the bench.
Step 4 – The seating area must be strengthened with a few slats.
In the fifth step we start to assemble the panels to a chair or bench.
Mount the seat between the two armrests, but do not tighten the screws yet.
And finally the last construction drawings where we place the back between the sides and against the seat.
Fitting of the backrest under an angle makes this lounge furniture very comfortable.
These building plans and do it yourself instructions are derived from our homemade furniture website in Dutch.