Step one for lounge benches and lounge chairs made of scaffold wood.
This step by step tutorial is equally suitable for as well a lounge bench as for lounge chairs.
All of these plans for lounge furniture are made for the use of scaffolding wood.
Obviously there are many other types of wood that are suitable for these do it yourself instructions.
Homemade furniture can be made very cheap, that is why we mainly choose the cheap recycled planks from scaffolding.
How to make your own lounge bench for in the garden.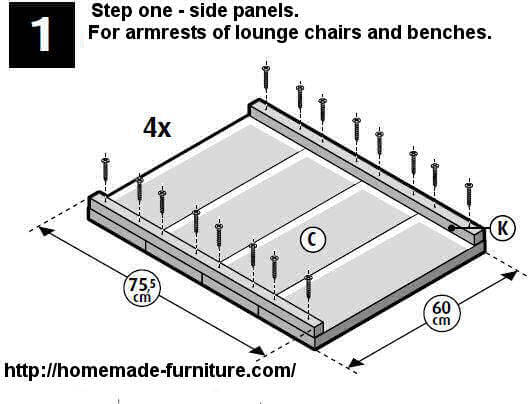 C – 20 x 60 centimeters.
K – 8 x 30 x 30 x 775 mm.
You could substitute the scaffold planks for another type like hardwood, but that would substantially increase the price of your homemade lounge furniture.
Pallets are usually a bit too thin for these panels of lounge chairs and benches.
Nevertheless, there are many types of pallet furniture which are very suitable for the planks from a pallet.
For each of these scaffolding wooden panels you will need four planks and two connecting slats.
Assembly method for the bench armrests.
Cut four planks to a length of 60cms.
Lay the planks against each other on the floor or on a workbench.
Cut two slats at 75.5 cms.
Place a slat on top of the scaffolding planks, against the edge.
Now use your powertool to fit it all together with two selftapping screws per plank.
Repeat the process three more times till you have four panels.
This is enough for one piece of garden furniture.
Ofcourse you could make a whole load of these panels if you decide to make a complete loungeset of scaffolding wood.
You will have to make four of these panels per piece of furniture.
Once these panels are ready you will have to connect them to finish the armrest.
In our next step of this tutorial the armrests will combine to make a box construction for these sturdy benches and chairs .
To do so you will screw a plank against the three sides of the panels.
At the bottom of the armrest there is no plank, thus preventing the accumulation of moisture.
Introduction to lounge furniture made of scaffolding wood.
Easy building plans and tutorial for a garden bench.
Step by step drawings for a home made lounge bench.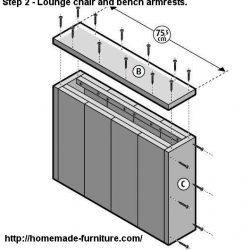 You are here now. Make these four panels for the armrests / sides of the bench.
Go further >> Assemble the sides for this bench.
Make a back for the bench, this will later be fitted in an angle.
The seating area must be strengthened with a few slats.
Mount the seat between the armrests.
Fitting of the backrest under an angle.