Table with wine rack and glass holders.
This bar table has a height that is convenient for use with barstools.
It is definitely not the easiest design to make by yourself.
Nevertheless it is a job that almost anyone can finish, provide that you have some patience.
Contrary to most of our woodworking plans, this wine rack table does require a few basic carpentry skills.
Most of the connections are made with dowels which strengthen the glued wood joints.
We made these instructions first on a Dutch page for homemade furniture.
These examples were originally derived from a very nice woodworking site.
Therefore all credits go to HomeDzine, the first creators of this wine rack.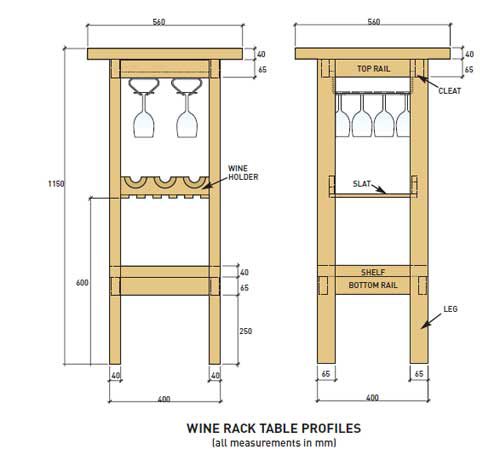 Parts list to make this wine rack and high table.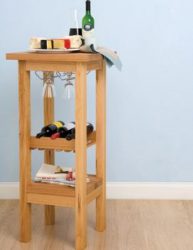 A – The table legs are made from wood with sizes 4 x 1110 x 65 x 40mm.
B – For the rails you need planks of the following sizes.
4 x 320 x 65 x 30.
And furthermore 4 x 270 x 65 x 30mm.
C – Make the wine bottle holders from slats with sizes 2 x 320 x 65 x 18mm.
D – Slats with sizes 6 x 315 x 30 x 12mm.
E – For the top 1 x 560 x 560 x 40mm
F – Shelf 2 x 400 x 195 x 40mm
G – Cleats 2 x 320 x 18 x 18mm
Apart from that you will need the following materials to build the wine rack and table.
8mm dowels and the tool for aligning dowel holes.
Obviouslly you will also need a drill and drillbit.
A good wood glue.
Pins for panels or nice looking copper screws.
Eight or more metal brackets.
To drill holes just deep enough for the dowels there is a simple trick.
Divide the dowel length by two.
On the drillbit you stick a piece of tape at that previously calculated half depth.
Now it is really easy to see when the tape reaches the correct depth.

How to make a rectangular wooden frame.
This construction method with dowels can be used for many types of homemade furniture.

Make supports for bottles in the wine rack.
Probably the easiest method for marking the round shapes, use a tin or any other round object.
This helps to mark the half bottle shapes which support the bottle neck.
You can cut the round shapes with a reciprocal saw, work carefully.
For this reason a hole cutter is a great addition to your tool kit.
In that case you clamp two planks against each other, then centrate the hole cutter in the line between the planks.

Joining all parts of wine rack and table together.

Barstools and other DIY examples for high bar tables.