Construction drawings for a homemade farmhouse table.
Free plans to construct tables from reclaimed wood.
This table design is easy to make, even if you have never made furniture before.
The materials for farmhouse tables are cheap and sometimes free.
Reclaimed planks from scaffolding and free wood from pallets are ideal for this construction drawing.
The tables can be used inside as well as outside on the terrace.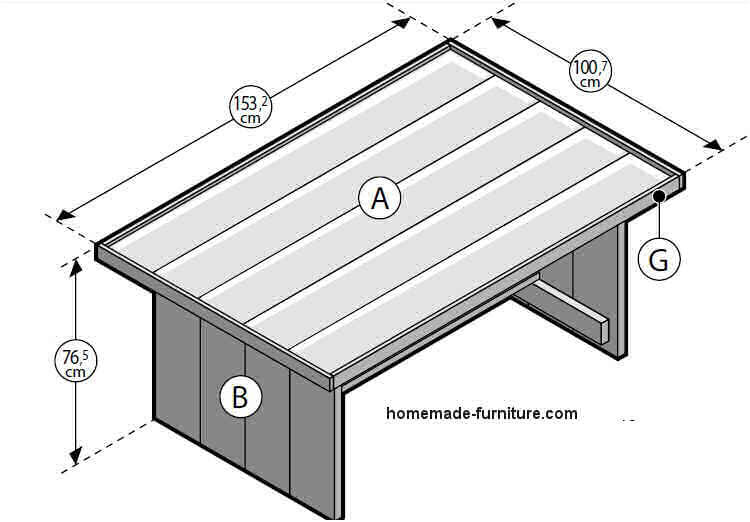 Shopping list – reclaimed wood for the farmhouse table.
Seven scaffolding boards or similar reclaimed wood with measurements 30×195 and 2500 mm. long.

Two wide slats, measurement approximately 16×50 and a length of 2700mm.

30 Nails with a length of 30mm.

Approximately sixty selftapping screws size 5×50 mm.

1 Can of white wash paint, grey wash or any color you like.
Explanation of the parts on this construction drawing for a farmhouse table.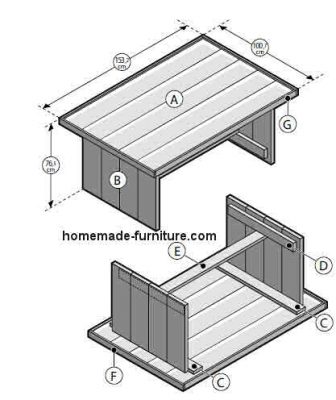 A 5x Scaffold boards 30 x 195 mm. and one meter fifty long.

B 8 Scaffolding boards 30 x 195 mm. and a length of 72 centimeters.

C 2 Scaffolding boards size 30 x 95 mm. and 90 centimeter long.

D 2 Scaffolding planks30 x 95 mm and 70 centimeters length.

E 1 Plank size 30 x 95 mm and 120 cm. long.

F 2 Slats approximately 16 x 50 mm. and 1007 mm. long.

G 2 Pieces of reclaimed wood with sizes approximately 16 x 50 mm. and 1500 mm. length.

30 Nails without a head, 30 mm. length.

± 60x Selftapping screws size 5 x 50 mm.
Assembly of the garden table in farmhouse style.
Preservation of your farmhouse table and wooden furniture in general.
We always advise placement of garden furniture on a hardened surface.
This is especially relevant if you want to use these farmhouse tables in the garden.
Never leave wooden garden furniture in permanent contact with soil or grass.
Moisture will shorten the lifespan for all wooden furniture.
Therefore we strongly advise a good protection against moisture, mold and insects.
These instructions to make a farmhouse table are derived from our Dutch homemade furniture construction plans.
Have a look at some of our other homemade furniture examples for reclaimed wood.