How to make a box joint for furniture.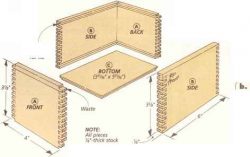 A requisite for this joinery method is absolute perfection in your cuts.
Both pieces of wood have to fit very tight together.
In fact so close together that you can not even get a piece of paper in between the parts.
This could still be achieved with a handsaw and chisel, but a box joint is hardly ever made by hand.
You will need a special tool to make a good box joint, there is no escape from that.
The box joint is similar to the dovetail method for furniture assembly.
It is slighly weaker then dovetails but nevertheless still a very strong method for joinery. Continue reading "Box joint and how to make wood connections with a dado set or wobble blade."