Bottle irrigation drip system for slow watering of plants.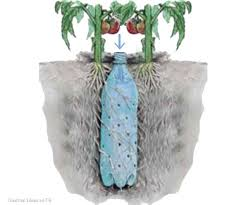 Cheap and easy, money saving watering method.
Stop overwatering your plants.
Let the liquid slowly penetrate in the root zone, dont loose it all because the soil is dry.
Little by little water leaks from the bottle cap.
Then the water disperses to the other roots, hence wasting hardly any water.
Not only is this money saving, more important is that you do not get pools of water around each planter.
There are two ways to use these watering bottles.
The easiest is sticking the neck in the soil.
This is the best way if the planters are already filled with roots.
On the other hand it is better to burry them almost completely for use in the vegetable garden.
In the latter case you will have to puncture the bottle insytead of the cap.
Continue reading "Drip bottle irrigation system."