Construction drawings to make a tube chair from scaffolding pipes.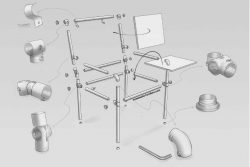 Chairs for inside or to use in the garden.
Weatherproof furniture, made with materials from reclaimed scaffolding.
Steel tubes and pipe clamps in combination with thick wood from the same scaffold.
You can repurpose the tube chair parts if you are not happy with the result.
Simply dismantle and recycle them in another furniture project.
About the scaffolding wood.
This wood has been outside for several years.
Therefore it has a weathered look and feel to it.
This wood is lightly preserved and could even be used without any woodstain.
Nevertheless we advise to spend some time on a nice finish.
Choose nice looking planks, and sand them as smooth as possible before you aooly a woodstain to the planks. Continue reading "Tube chair with a frame made from scaffold tubes – adjustable inclination for the backrest."