How to make simple stools at bar height.
Do it yourself examples and instruction for a home made bar stool.
These construction drawings are similar to the stool with four legs.
Another great model for barstools is the construction drawing for a scaffold tube stool.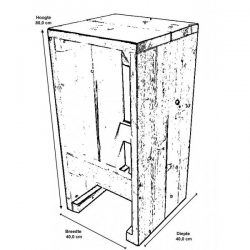 A 2 Scaffold planks 30 x 195 mm. and 386 mm. long.

B 2 Planks  30 x 195 mm. and 45 centimeter length.

C 4 Scaffolding boards 30 x 195 mm. and 770 mm. length.

D 4 Slats measuring 30 x 62 mm. and 386 milimeter length.

E 4 Wooden slats measuring 30 x 30 mm. x 320 mm. length.

G 4 Slats like the previous, 30 x 30 mm. but with a length of 325 mm.

H 2 Slats 30 x 30 x 390 mm..

Approximately 50 self tapping screws 5 x 50 mm.
The finished bar stool and a matching bar table made from scaffold boards.
These stools and their construction drawings were derived from the Dutch instructions for scaffollding furniture.
More examples of stools for placement at a bar.
Easy DIY instructions and construction drawings.