Woodworking plans to make a cascading planter with three levels.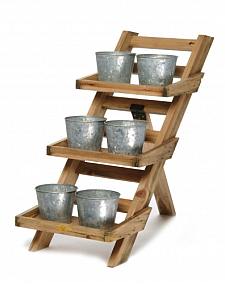 These racks and cascading planter supports are ideal for small outdoor spaces.
How to make these cascading gardens is very easy.
Most designs consist of two A-frames with several shelves in between.
These are very easy construction examples for a multi level planter and hanging mini gardens.
You can make these mini gardens from scaffolding planks and reclaimed lumber.
Pallets are a bit thin for these home made planters.
Thicker wood is specially required for the vertical A-frames which hold the plant rack together.
three tier planters woodworking plan.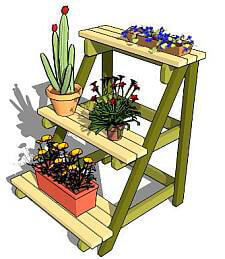 These plans and DIY examples are derived from our favorite website for woodworking.
Have a look at the description and construction examples on woodworking for mere mortals.
A translated version is available for the Dutch readers.
First of all you have to make the sides for the planter rack.
Use planks with sufficient thickness and strength.
Usually these racks are placed against a wall.
Therefore the back of this planter rack is vertical, whilst the front legs are inclined forward.
Attach the planks with selftapping screws.
Nails are less solid for the construction of garden furniture and planters.
Have a good look at the construction drawings below.
Continue the assembly as shown.
You might want to change some parts of this design, it's all up to you.
For these construction plans we have chosen not to mention any sizes.
Neither for the planter rack nor for the seperate parts.
There is a simple explanation for not mentioning sizes.
You can make these planters in any size, unlike the home made furniture.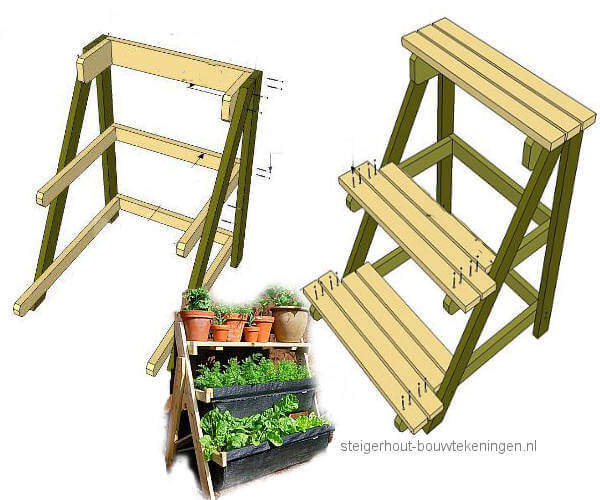 Assembly of the cascading garden planter rack.
Examples of the finished three tier cascading planter.
Have a look at our construction drawings for homemade garden benches and chairs,
More designs for planters made with reclaimed wood.
Scaffolding planks and pallets are the main building materials to make the planters.